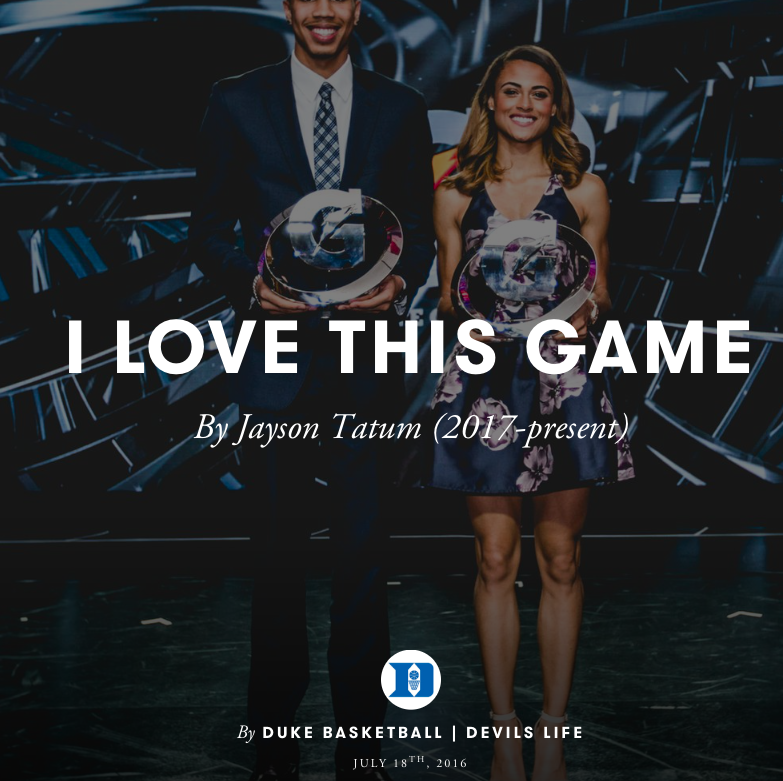 Basketball. This game has been so good to me. I am only 18 and I have had so many amazing opportunities because of the game. I've formed some amazing relationships around the game.
This past week in LA was just another example. I was a finalist for Gatorade's High School Athlete of the Year and was flown out for Gatorade's awards ceremony and the ESPYs. I flew out Monday and got back Thursday night. I was really excited to go out there. There were five finalists both for the boys and girls. We were all out there together with our parents and got to do some cool events.
Our first event Monday night was bowling. All the athletes and their parents could bowl. They fed us well and gave us bowling shirts with our names on them. We played a couple of games. Tuesday morning, we had a dance class. It was hip-hop dancing and a good workout for about an hour. I have some decent moves but you will have to wait for Countdown to see those! Then we had some down time to chill before our rehearsal for the Gatorade ceremony. We met in a lounge room beforehand and got to meet some successful pro athletes like Karl Towns, Landon Donovan, Matthew Stafford, and Abby Wambach.
From there it was time for the ceremony. I brought out an all-navy suit with brown shoes and belt and was feeling good! Cam Newton was at our table and I got to speak with Todd Gurley too. I had talked to Todd before and he had followed me on Twitter for awhile. He was real cool. He said he wanted to come to a Duke game again this year. I know he's been a big fan for awhile. The ceremony got going with a Q&A session hosted by Sage Steele with all the high school athletes on stage. She then walked around to the pro athletes and introduced them.
We ate and talked and then it was time for the awards. The women went first. They had videos for the nominees and then announced the winner…. Sydney McLaughlin. She's super impressive! She is going to the Olympics as the youngest member of the U.S. Track & Field team. She's a sprinter and hurdler.
Next up was the award for the guys. Karl Towns, Cam Newton, Todd Gurley and London Donovan were presenting and called my name!
It meant the world to win. I didn't really expect it. Right before, my mom suggested I have a speech ready just in case. I typed something up on my phone but you don't want to be up there with your phone out!
I went off the top with my speech, running "motion offense" as Coach K would say. Jayson Tatum. National High School Athlete of the Year. You don't win an award like that by yourself.
I thanked God, my parents, my family, my grandparents, family and friends, my high teammates and coaches, my Duke teammates, Coach K and the staff. I thanked Gatorade again because it's really cool what they do for all of us with this award. All of the finalists had experiences we will never forget.
Any time something great happens for me, I think of my mom. In this case, the award recognizes more than just on-court talent and success. It looks at academic performance and community involvement. My mom has always wanted me to be a well-rounded kid who serves his community well. She has always pushed me to be more than just a basketball player. She has been my inspiration my whole life. She was 19 when she had me. She graduated law school. She has raised me by herself. I am at Duke and have done what I have done because of her. So I always have to shout-out my mom!
Anyway, after I got this cool trophy we were off to media interviews for a couple hours. You went from station to station talking to people. After that, they hosted a party for us at the hotel.
The next morning, we had a workout scheduled with a famous celebrity trainer. I didn't know at first who it was. He asked me if I had been to the water fountain in our Duke weight room. I said yes. He asked if I had seen anything special. I hadn't paid close enough attention but he's got a plaque and the room is named after him! It was Duke grad Gunnar Peterson. Our weight room is named after Gunnar and he trains a bunch of the stars out in LA. Halle Barry, Gisele, J. Lo and a lot more! He's a huge supporter of our program and was a really cool guy. Guess I've been working too hard in there with Coach Will and the guys to notice Gunnar's plaque! My bad Gunnar!
Gunnar and his team had parked a big Hummer in an open parking lot and there were ropes and ladders attached and different stations. We worked out in the parking lot for awhile and then ran from there to the beach. That was really fun. The Duke Fam is everywhere!
After the workout, we got back to the hotel and the guys chilled. We relaxed and then got ready for the ESPYs. I went with a white shirt and black bowtie. I had some tuxedo pants I had tailored around the ankles. Loafers, no socks, dark blue suit jacket. I had to dress to impress!
A bus took us to another hotel where the red carpet started for the ESPYs. We were early getting there so we went up to this balcony Gatorade had where you could get food and drinks. As we got closer to showtime, all the athletes started walking down. They gave us a chance to walk the red carpet and have our name called out. Sydney and I got interviewed again.
The red carpet was incredible. I have never seen so many famous people in my life. It was so many people on that red carpet! I saw Kyrie, Kobe, Russell Wilson, Shaq, Dr. J, Charles Barkley, Kevin Love, DeAndre Jordan, Ezekiel Elliott and so many people I had always watched on TV. I saw Gerald Henderson, Justise Winslow and Grayson too so you know we all had to take a picture. I spoke to Kyrie for awhile also.
I was most excited to meet Kobe. He has been my favorite player since I remember playing basketball. He was so cool about it. He kind of walked up to me first. I was looking to the left and I turned and he was there. He introduced himself. He said, "I'm very excited to see you play next year at Duke." I asked him for a photo. He said, "of course." That was my favorite part of the ESPYs — walking the Red Carpet and seeing Kobe.
After the red carpet show, it was time to walk in. At first, we had good seats in the middle but Sydney and I were moved to the very front row next to Charles Barkley, and Shaq and his family. We got to sit there the whole time. LeBron, Kobe, Melo, Chris Paul, Peyton Manning, Dr. J, Kareem — they were all in the front. We got to sit there and watch it all. Kyrie was in the second row behind LeBron. Justise and Grayson were in the middle and a few rows back. It was fun just to take it all in and sit amongst greatness! There were so many athletes there who I have admired for awhile.
Everything about the ESPYs was first class. One of the highlights for me was the speech by Craig Sager. That was one I will remember for a long time. If you guys didn't catch it yet, check it out on YouTube.
After the ESPYs were over, they had another party for us back at the hotel. I caught the non-stop from LAX to RDU the next morning. It was a long flight back. When I wasn't sleeping, I was just thinking about how basketball has opened up so many doors for me. Since the beginning of high school, I have traveled to three different countries, including Dubai with USA Basketball. I have experienced things I never would have even thought of without basketball, including walking a red carpet with athletes I idolized growing up. Basketball has brought me so far. It's taken me now to Duke and given me the chance to learn from a legend in Coach K.
I also thought about how I want to keep getting back to the ESPYs. It's the place you want to be in July because you gotta be great and win big to get there. I saw Villanova's guys at one point. So you already know what I was thinking then. I want to come back next year, but with our full squad and Coach. And a trophy.