GUNNAR PETERSON ON HOW TO SET YOURSELF APART IN THE FITNESS INDUSTRY
George Washington. Sir-Mix-A-Lot. Your mom. Yes, the list of people that Gunnar Peterson hasn'tworked with is much shorter than the list of people he has.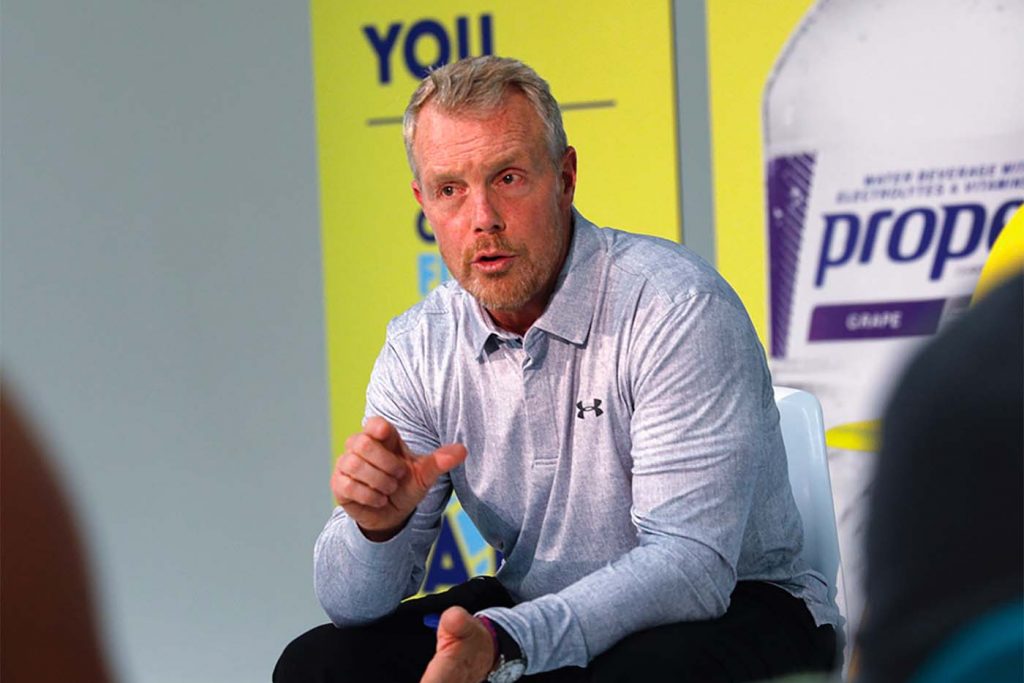 Peterson's website outlines the most impressive accomplishments, from working with almost every professional sports league and countless celebrities, to writing articles for the industry's biggest magazines, to innovating his own gym and gym equipment. Peterson's experience coupled with his understanding and practice of functional fitness makes him one of the most sought-after personal trainers in the business.
So, when the question, "How do you set yourself apart from other trainers in the fitness industry?" popped into my head, I couldn't think of a better person to ask. His advice can be most useful for rookies and veterans alike.
Keep the education going…
"I entered the personal training world with my freshly printed ACE Certification and having read years and years worth of bodybuilding magazines, which doesn't necessarily translate to a large demographic of clients. I continued (and still do) reading everything I could about fitness, exercise, nutrition, etc., and I took as many seminars as I could find. [I'd fly] somewhere for the weekend to hear people like Vern Gambetta, Mike Boyle, Paul Chek, Juan Carlos Santana, and others speak. That kind of ongoing education opened my eyes to a lot of different approaches. It made me better and better able to deliver quality training and service to my clients."
… And meet as many people as you can
"I love meeting like-minded and passionate people! I meet people with no pre-judgment and talk a little and listen a little more than I talk. It has to be genuine, the conversations are real, and any opportunity that may come from those conversations and that time spent is organic. There is no substitute for face time with others in your industry."
Try everything that's already there for you…
"You have to keep learning and keep trying new things. Even the hokey things! You can't speak with any authority about something unless you've tried it. I try everything."
… And then make your own mark on the industry
"Find the good, pool all of that good, and make your own contribution to the field. That is one way to rise above. Giving back to the field that provides you with your livelihood is profound. Giving, not taking, is the new black…"
Try something new…
"Get uncomfortable in a discipline that isn't your go-to. If you teach group exercise, learn about personal training. If you're a personal trainer, take three months' worth of Pilates classes. Take up boxing and learn to hold focus mitts and cue clients."
… But also have a strong understanding of the old
"Learn your fitness history. Read about the people who paved the way for you in this industry. If you don't know the names I listed previously, Google them. They made a difference and you can too."
Master the balance of remaining well-rounded…
"Watch Democratic news, Republican news, SportsCenter, an episode of two of new shows, blockbuster movies, Academy Award nominated movies. At least read the reviews."
… While remembering your clear and specific focus
"Be able to converse on today's issues, but don't bludgeon anyone with your opinion. Just keep the conversation going and stay open. At the end of the day, your opinion only matters to a select few so relax about converting people. That's not your job. Your job is to help them get and stay healthy and to avoid injuries. Period."
And if this post or anything else we've created impacted your life, please support our Kickstarter.